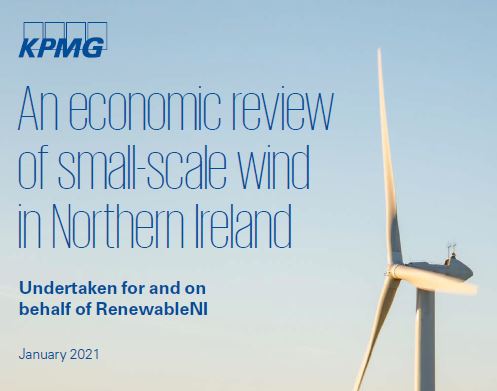 Farm Energy NI part funds wind report and refutes Audit office claims
Farm Energy NI part funds wind report and refutes Audit office claims.
An independent economic review of small-scale wind in Northern Ireland has found that an average small-scale wind turbine costs the individual consumer just 1 pence over its 20-year lifespan. A cost which is partially offset by these wind turbines contributions to the reduction in the wholesale electricity price and other wider economic benefits including increased employment and reductions in carbon emissions.
Written by KPMG on behalf of Renewable NI, the report 'An Economic Review of Small Scale Wind', examines the socio-economic impact of small-scale wind including costs to the consumer. It also reviews government support for the sector and evolution of support schemes including the NI Renewable Obligation (NIRO), as well as de-rated turbines and expected average rate of returns for operators.
Farm Energy NI are members of Renewable NI and their Small-Scale Working Group. Along with other companies representing small scale renewables we part-funded this report to ensure our members had fair representation and the investment in their assets are protected. Commenting on the report, "We felt it was important to support this piece of research to protect our own membership from the political and economic implications of the Audit Report not being challenged"
The review comes on the back of a report released by the Northern Ireland Audit Office last year which examined the NIRO but did not have access to commercial data. Key findings of the report include:
Independent assessment reveals the average small-scale wind turbine costs individual Northern Ireland consumer just 1 penny over its 20-year lifespan.
The review finds the sector contributes £45 million per year to the local economy and has created over 500 jobs.
Average small-scale wind turbine achieves a 9.7% rate of return – in line with Government target.
Overall, the cost to the consumer of the renewable's obligation was less than projected and delivered more renewable generation in Northern Ireland than was targeted.
Findings based on actual costs of small-scale wind assets in NI, which were cross referenced against publicly available information, with a randomised pool of projects also audited to validate findings.
Welcoming the report, Steven Agnew, Head of Renewable NI said; "2021 is a strategically important year for the renewables sector as we look forward to the publication of an energy strategy that will help us reach our decarbonisation targets, while also creating growth opportunities. It is therefore important to recognise the real value of the small-scale wind sector which, as this report shows, has far reaching positive benefits."
"There has been a misconception recently about the value of small-scale wind locally and the impact of the NIRO scheme. This review carried out by experts in the field, reveals not only the true cost to consumers of the NIRO scheme but also the far-reaching positive benefits of small-scale wind for the economy, jobs, and the environment, at a reasonable rate of return that falls under Government estimates.
"Small-scale wind also brings with its job creation, enhanced security of supply and the ability to infill pockets of grid capacity which can't accommodate larger projects – all at the price of 1 penny per turbine to the NI consumer.
"The renewable electricity industry stands ready to invest in Northern Ireland and power the green recovery that is needed as we tackle the twin Covid and climate crises. Setting an 80% target for renewable electricity generation by 2030 for instance could create over £1billion of direct investment in NI over the next decade, while also savings 3.5 million tonnes of CO2 equivalent."
Farm Energy NI welcome the wider distribution of this report so please feel free to share this newsletter and report to all your networks. The report can be downloaded here: An Economic Review of Small-Scale Wind in Northern Ireland